To describe the last few weeks and the upcoming days as tumultuous would be an understatement. I believe that now, more than ever, we need an extra dose of art to distract us and keep our spirits high.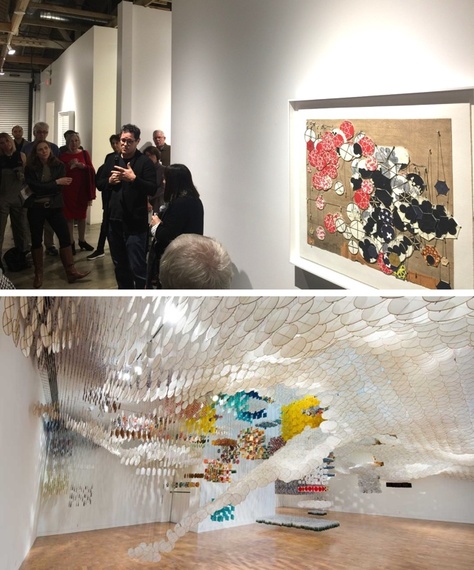 Top: Jacob Hashimoto speaking in front of Another Cautionary Tale Comes to Mind, 2016
Mixografia, Los Angeles
Bottom: Installation view of Jacob Hashimoto, Gas Giant, 2014. MOCA Pacific Design Center: Courtesy of the Artist
Last Saturday, I went to see the exhibition of new works by Jacob Hashimoto at
Mixografia
, a print workshop in Downtown L.A. renowned for producing and publishing limited edition prints and sculptures by leading contemporary artists. Currently based in New York, Jacob Hashimoto started his career here in L.A. and I've been following his work for years. Three years ago, he had a very ambitious
sculptural installation
at MOCA's satellite
Pacific Design Center
. Thousands of Hashimoto's trademark small paper kites were suspended from the ceiling in the shape of billowing clouds.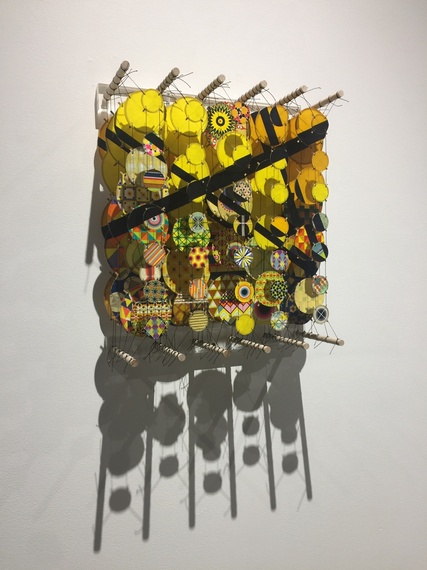 Jacob Hashimoto, Through the Chaotic Corridors of Light, 2017; Paper, acrylic, wood, bamboo and Dacron
On Saturday at Mixografia, the artist gave a talk about his new prints, which have an unusually rich 3-dimensional texture. After looking at them carefully, one is tempted to describe them as sculpted paper reliefs rather than traditional prints.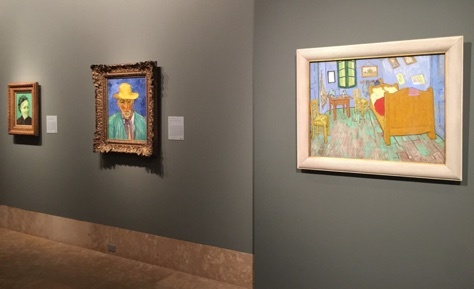 Installation view of Van Gogh, The Bedroom, 1889. Norton Simon Museum, Pasadena.
On loan from Art Institute of Chicago
That same day, I managed to get over to Pasadena, to the Norton Simon Museum to see the famous Van Gogh (1853-1890) painting,
Bedroom at Arles
, on loan from the Art Institute of Chicago. There are two more versions of this painting: one in Amsterdam at the Van Gogh Museum and another in Paris at the Musée d'Orsay. But somehow, this Chicago version of
Bedroom
(1889) has extra oomph, with its more pronounced brushwork and slightly brighter palette. If you haven't been to the Norton Simon recently, I highly recommend going there before this great painting returns to Chicago on March 6th. Until then, you can enjoy seeing it accompanied by half a dozen of Van Gogh paintings from the Norton Simon Museum's permanent collection.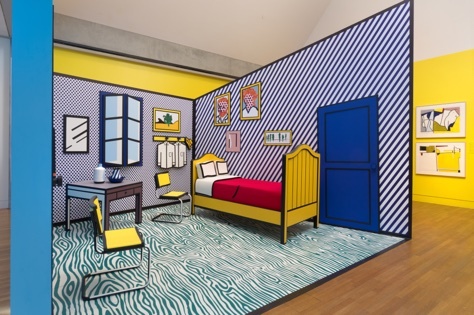 Installation view of 3D recreation of Lichtenstein's Bedroom at Arles, 1992. Skirball Cultural Center.
Photo: Robert Wedemeyer
And here's yet another welcome distraction;
A few months ago
, I talked about the exhibition at the Skirball Cultural Center,
Pop for the People: Roy Lichtenstein in L.A
. The exhibition runs until March 12th. As a pure coincidence, the Skirball's curators chose one of the prints by Lichtenstein — his homage to Van Gogh's Bedroom at Arles — to build into a life-size recreation of the bedroom as reimaged by Lichtenstein. There is plenty of tension hovering in this interior due to the dramatic relationship between Van Gogh and Gaugin, who stayed together in Arles for a few weeks. But here at the Skirball, you have the choice of asking your kids to sit on the bed, smile, and — drama be damned — snap a happy picture.
Susan Jaques & Edward Goldman in conversation at the Getty Center; Jan. 15, 2017
Photo: Penny Wolin
Sunday at the Getty Center, I had the pleasure of joining Susan Jaques in conversation on the stage of the Harold Williams Auditorium, where we talked about her new book
Catherine the Great: The Empress of Art.
According to Jaques, Catherine "was a self-proclaimed 'glutton for art' and she would be responsible for the creation of the Hermitage, one of the largest museums in the world, second to only the Louvre". There were plenty of fascinating stories to share, including secret sales of the Hermitage's masterpieces by the communist government in the 1920s to Andrew Mellon, the U.S. Secretary of the Treasury. Years later, when Andrew Mellon established the National Gallery of Art in Washington D.C. and donated his private collection to the Gallery, some of the paintings bought by Catherine the Great for the Hermitage ended up proudly displayed in Washington.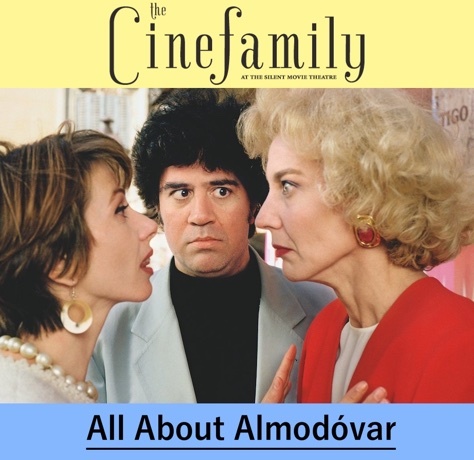 "All About Almodóvar" Retrospective at Cinefamily, January 6 – 22
Now, let's step into the rather crazy but amusing world of Pedro Almodóvar, the Spanish filmmaker whose films are part of the current retrospective at
the Cinefamily
. Almodóvar's films are an incomparable combination of profound and hilarious observations on human nature. Few directors can create female characters as intriguing, complex — and yes, crazy — as he does.
With all of the above, it's time to evoke the Latin saying
ars longa, vita brevis
— which, in my imperfect translation, goes "life is short but art is forever".
___________
Edward Goldman
is an art critic and the host of Art Talk, a program on art and culture for NPR affiliate KCRW 89.9 FM. To listen to the complete show and hear Edward's charming Russian accent,
click here
.
To learn about Edward's Fine Art of Art Collecting Classes, please visit his website. You can also read more about his classes in the New York Times here, and in Artillery Magazine.