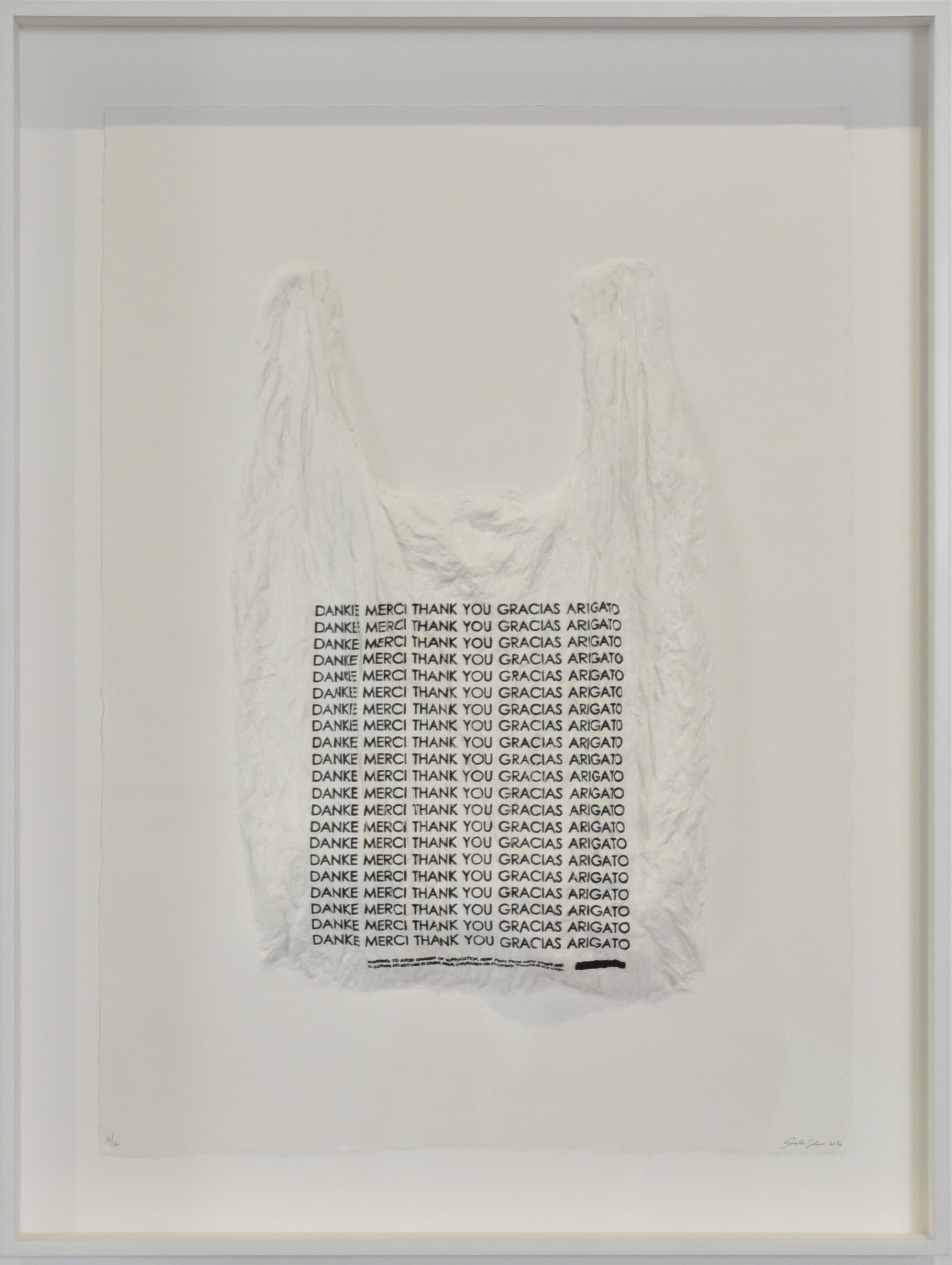 Analia Saban, DANKE MERCI THANK YOU GRACIAS ARIGATO Plastic Bag, 2016.
Photograph by Micah Espudo
Through her show, "Paper or Plastic?", at the innovative Mixografia studio, Analia Saban breathes new life into plastic grocery bags while highlighting their vapidity as an aging commercial technology.
In earlier bodies of work, Saban cast mundane objects in pure paint and attached them to canvas. In this body of work, she extends that methodology to printmaking.
The exhibition consists of sculptural prints created using a special Mixografia® process to portray plastic bags and hand towels in high relief. Each piece was cast to produce a copper plate mold. The metal form's interior was then inked, and wet paper pulp pressed into it to simultaneously emboss the sculptural shape and transfer the ink.
The exhibition's clever title intimates Saban's playful material convolution.  From afar, the prints seem as though they would possess a trompe l'oeil-like effect as actual plastic bags affixed to paper and framed. The suggestion of illusionism quickly diminishes as one approaches.  Subtle feathery seams around the margins of each bag betray their fibrous construction. The paper absorbs light, rather than reflecting it as would plastic. Shiny plastic could never look so rich as the ink that sits upon these prints' absorbent surfaces.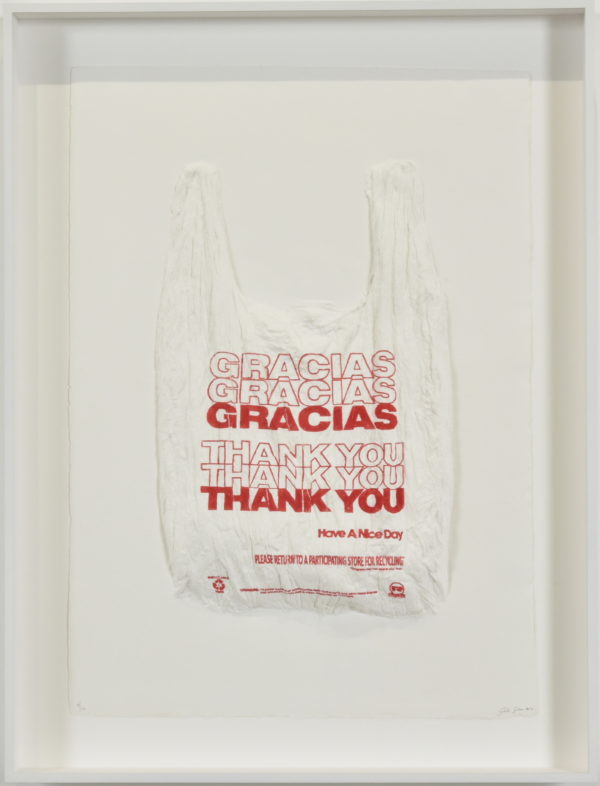 Analia Saban, GRACIAS GRACIAS GRACIAS THANK YOU THANK YOU THANK YOU Have a Nice Day Plastic Bag, 2016
Photograph by Micah Espudo
The printed components are primarily text accompanied by simple designs, as commonly seen on generic grocery bags used by small businesses whose volume doesn't warrant printing bags with their store logos.
Such pliable containers secondarily function as vernacular emblems of transactional gratitude. Most of the text professes gratefulness—"Thank You For Your Business," or positivity—"Have A Nice Day." Are not these bathetic messages, external afterthoughts stamped en masse by third-party companies, as vacuous as the bags themselves? Saban's congeries emphasizes their triteness through repetition. Nevertheless, perhaps complaisant transmissions make better reading than advertisements from large-scale operations.
As permanent mementos of cheap disposables emblazoned with hackneyed verbiage, Saban's prints exude wry, quasi-earnest sentimental affectation. The Pop reference is unequivocal. Saban's prints' frontality and ironic emphasis on words are more aligned with the text-based conceptualism of Baldessari, her mentor. Owing to their obviousness and reiteration, they lack the complexity of her paintings. Despite that, she makes the medium work conceptually.
While still ubiquitous, plastic bags of all kinds are gradually being displaced by sacks deemed more eco-friendly. Likewise, handmade prints are an obsolescing art form. Saban's combinations of the two serve as mementos mori that underscore the near-outmodedness and dubious value of both prints and grocery bags as bulk-produced commercial items. Her prints exude a pretentious preciousness enhanced by their pristine white cases. Even the penciled signature and edition numbers evoke museum cataloguing.
As much documentary artifacts as they are artworks, these prints may one day serve as reminders of the era in which people toted groceries inside flimsy tokens of commercial gratitude, in which fetishistic treasures were manually minted in a family-owned printmaking studio.
Osberg, Annabel, and November 8, 2016 · in Nov-Dec 2016, Reviews. "Analia Saban." Artillery Magazine. N.p., 07 Nov. 2016. Web. 24 Jan. 2017.